GVK tones and balances the full seven chakras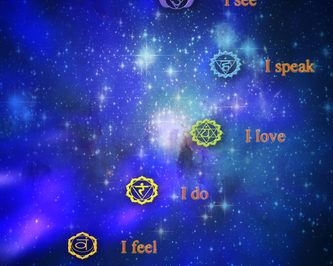 Ok GVKers! here it is ~ the 7 chakras. I promise you that toning all seven chakras regularly will improve your life on every level. Your connection to the Divine will deepen, your psychic abilities will expand and your sense of well being will broaden. Keep this podcast in your tool kit for balancing and shifting the energy in your life to a more positive and Knowing place.
Let's recap ~
1st chakra color: red            element: earth ~     to have
2nd chakra color:orange     element: water ~    to feel
3rd chakra color: yellow     element: fire ~         to act
4th chakra color: green       element: air ~          to love
5th chakra color: sky blue  element: sound ~    to speak
6th chakra color: indigo     element: light ~       to see
7th chakra color: violet       element: thought ~ to know
When we are balanced, we can receive, with clarity, the Divine messages that surround us. Accessing our Divine Selves brings us into a place of Knowing and Knowing pushes out the fear. I hear so many conversations centered in fear and negativity ~ global warming, poverty, animal abuse, Earth abuse. Sigh. Believe me, I get it! I live on this Earth and I am well aware of the challenges we are facing as a human race. But, lets be honest, if I focus on that, then I seriously would not even get out of bed in the morning. I must remain focused on my Divine Self to institute positive change.
My kids will tell you that my favorite saying, and I Live by this, is ~ if you are not part of the solution, you are part of the problem. Period. It is truly that simple. Stay balanced and create positive change. Pick up the garbage you see on the ground, plant a tree, stop using pesticides on your lawn and garden, volunteer in your town, smile at people, learn something about a different culture (especially one that scares you). How to effect positive change is endless. Balance, tap in and vibrate it out to be the beacon of Light you came here to be…
Get to know your chakras better with this fantastic chakra workbook by Sonia Choquette
True Balance
balance your chakra system with this podcast
---